The Trust for the Americas sponsors civil society initiatives for Open Government in Belize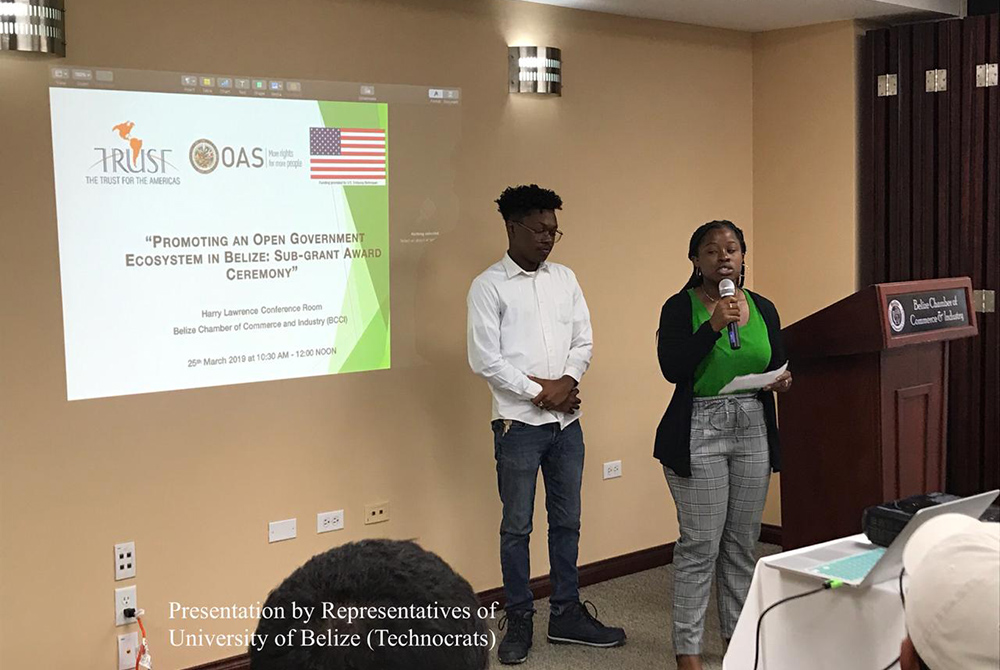 Presentation by Representative of University Belize (Technocrats)
Eight projects have been awarded seed funding to develop solutions for their local challenges.
Washington, D.C., March 22nd 2019.- Within the "Promoting an Open Government Ecosystem in Belize" project, implemented by The Trust for the Americas, on March 25th, eight initiatives received seed funding for US$5,000.00 each to support the pillars of Open Government and foster citizen participation and public accountability in Belize.
These eight projects stand out for their diversity and the detection of Belize's needs, ranging from journalism, the audiovisual industry, public transport, illegal fishing, human trafficking detection and gender-based violence.
The goal of the program lead by the Trust for the Americas is to encourage direct and constant communication between governments and citizens, with the objective of improving transparency and democracy.
"The project, implemented in Belize, is already motivating civil society organizations and social actors, not only to forge a stronger partnership with their Government, but also to achieve improved citizens' access, and to make existing governance structures more responsive to their needs" said Starret D. Greene, Representative in Belize of the Organization of American States.
During the award´s ceremony, Henry Wade, Local Coordinator of the project for The Trust for the Americas, commented "It is important to encourage the participation of the media, non-profit organizations, universities, the private sector and vulnerable populations in Open Government initiatives to promote innovative projects that improve the quality of public services". He also highlighted the importance of supporting local innovation from all sectors to solve problems from within the communities.
One of the initiatives that standed out is the "Online News-Agency-Styled Policy-Tracker" developed by the Belize Chamber of Commerce and Industry (BCCI). "The BCCI has been selected as one of the successful Open Government Sub-Grant awardees, which will use the US$5,000.00 as a sub-grant to aid in its efforts towards designing and implementing a Policy Tracker, aimed at keeping the BCCI membership, the Belizean public and international audiences aware of public sector policy developments in Belize" said Dyon Elliott, Policy Analyst, BCCI.
The other awardees are:
"BAVIA Online Integrated National System Registry and Website" by Belize Audio Visual Industry Association.
"501 Bus" by Belize High School.
"Creating an Enabling Environment to Prevent Violence Against Women" by Child Development Fund.
"PING" by Corozal Junior College.
"Vital Stats Web Application" by University of Belize Technocrats.
"Improving Stakeholder Access to Fisheries Resources Management Data via E-Services" by Wildlife Conservation Society.
"Improving Crop Production Yields Using Climate-smart Agricultural Practices" by Ya'axché Conservation Trust.
The "Promoting an Open Government Ecosystem in Belize" project is being implemented since 2018 with the support of the Embassy of the United States in Belize. Last year, The Trust for the Americas co-organized the first ever "Belize Open Week" with more than 180 participants from the public and private sector.
About The Trust for the Americas:
The Trust for the Americas is a nonprofit organization affiliated with the Organization of American States (OAS) whose mission is to promote alliances for economic and social inclusion in the Americas. Established in 1997, The Trust was created for the participation of the public sector, the private sector, and civil society initiatives in social and economic development in Latin America and the Caribbean. The organization's initiatives improve communities' access to economic opportunities, better citizen security, and opportunities for democratic expression and governance. The Trust for the Americas provides local partner organizations with training tools, services, products and technical assistance to better serve vulnerable communities in the region. Visit: www.trustfortheamericas.org
Facebook: The Trust for the Americas Twitter: @@Trust4Americas