The Trust for the Americas creates a brighter future for people in Latin America and the Caribbean by providing access to economic opportunities, fostering governance and transparency and promoting social inclusion.
More about us

Economic Empowerment
Governance, Accountability and Transparency
Social Inclusion
Our presence
20
Countries in Latin America
and the Caribbean
Legal presence in USA, Colombia and Canada.
Our Impact
We partner with local organizations to train and provide vulnerable communities with job readiness tools and hands-on skills to help them become self-sufficient. Through strategic collaboration with public and private sectors, our projects help people succeed and inspire communities to thrive.
Check out our success stories.
Venezuelan Displaced Communities Program: Know my story
Odell Marsh
Urban Lab for Youth Innovation in Jamaica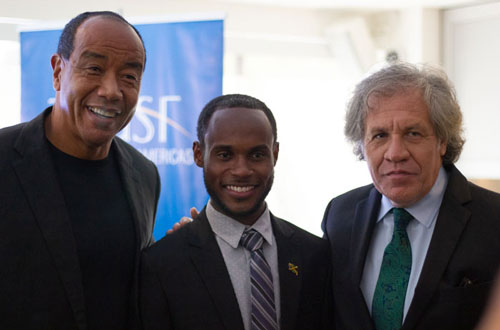 "My name is Odell Marsh. I am 25 years old and the eldest of six children. I grew up in a single parent home in the rough community of Jones Town also known as 'Jungle'. This is not an easy community to survive in, especially as a male, where the negative influences and peer pressure are everywhere".
Odell is a DIA participant at the Urban Innovation Lab, where he takes courses on business models and innovation. "My project focuses on capturing the true essence of the Jamaican culture through a Patois Language App. The language app allows the user to translate English language to Patois. With the help of DIA, I have been able to create and test this app. I know innovation is the next big thing and DIA gives me hope to pursue it".