The Trust for the Americas and the Organization of American States promote an open dialogue about the value of Open Data for the private sector in Belize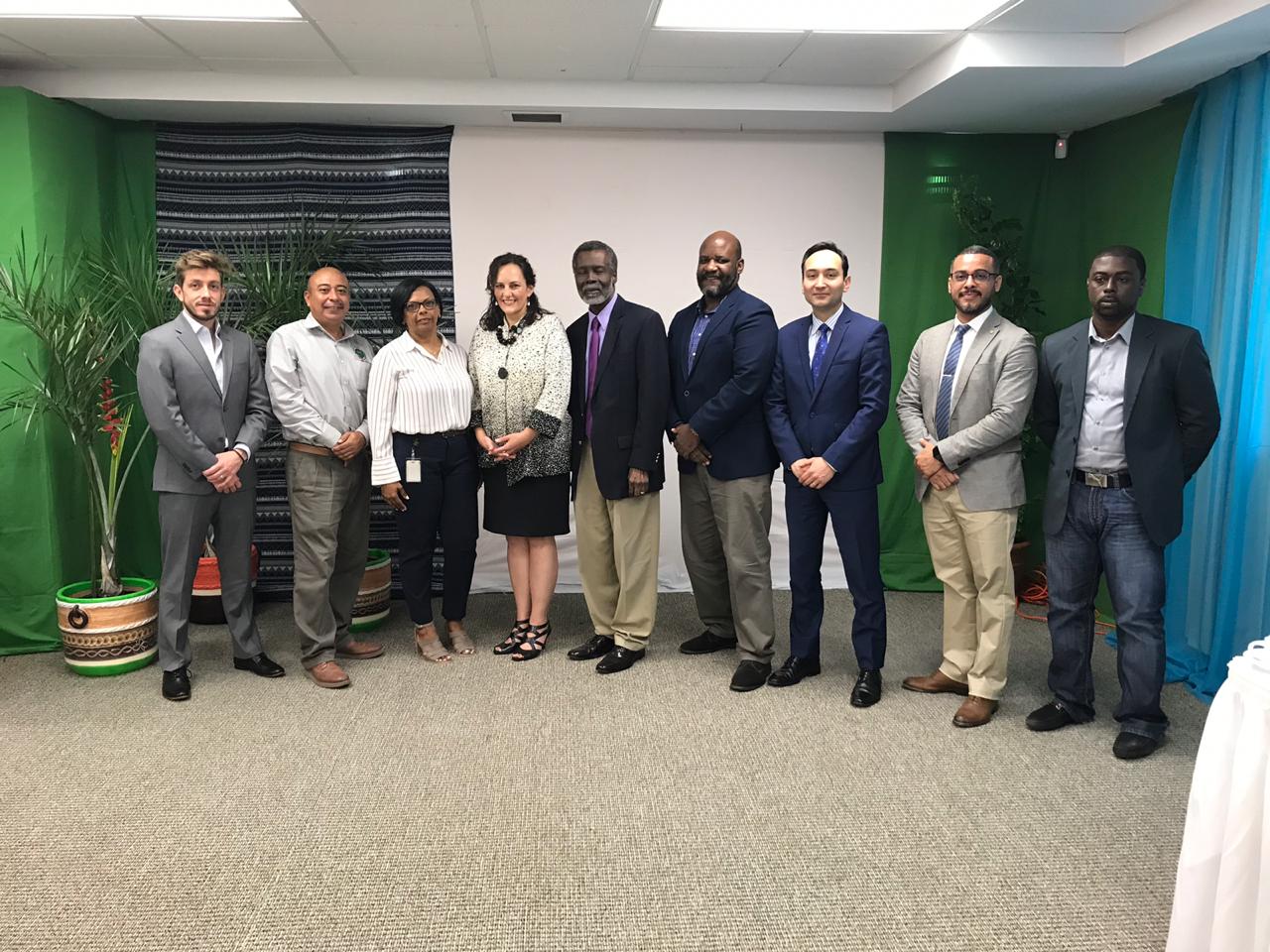 Partnerships that drive development in Belize. (From left to right)–Rodrigo Iriani, Project Manager The Trust for the Americas, Marvin Mora, President – National Trade Union Congress of Belize , Kim Aikman - , CEO - Belize Chamber of Commerce & Industry, Mary Beth Goodman, Former OGP Country Lead for the US Government, Starret Green – OAS Representative in Belize, Mike Mora, Henry Wade, Local Coordinator The Trust for the Americas, and Dyon Elliott, Chief Policy Analyst, BCCI
The roundtable is part of a continued effort to gather government, private sector, and civil society leaders to create innovative solutions for the Belizean community.
Washington, D.C. (April 26th, 2019)- The Trust for the Americas and the Belize Chamber of Commerce and Industry will host a roundtable to uphold a dialogue about the potential of open data as a source for improvement of public services and economic revenue. This event will take place as part of the project "Promoting an open Government Ecosystem in Belize" and is funded by the Embassy of the United States in Belize.
The Trust for the Americas has been working closely with the Belizean private sector to support both the Belizean government and its civil society to jointly create spaces for dialogue, collaboration, and deliberation of policies to provide public access to information and effective service delivery. The roundtable will provide a forum for business development authorities, academics, and other groups interested in discussing how to co-create and innovate with the private sector and how to match the available Belizean open data with business opportunities.
About the meeting, Rodrigo Iriani, project manager of The Trust for the Americas said "The goal is to showcase how open government and open data can advance transparency and development outcomes. Bringing together the private sector, civil society, and government officials while introducing collaborative methodologies for finding solutions, enhances the prospects to serve better all citizens".
Mary Beth Goodman, former OGP Country Lead for the US Government and one of the experts invited to the dialogue, commented: "Data is a valuable national resource and a strategic asset to any government, its partners, and the public. Managing this data as an asset and making it available, discoverable, and usable – in other words-- open – not only strengthens our democracies and promotes efficiency and effectiveness in government but also has the potential to create economic opportunity and improve citizens' quality of life."
The panelists include Mr. Mike Mora, OAS Specialist, Department for Effective Public Management; Mr. Marvin Mora, President of the National Trade Union Congress of Belize; Mr. Ishmael Quiroz, Executive Director of Economic Development Council and Maurice McNaughton, Director of the Caribbean Open Institute (COI).
This session is part of the extended schedule of activities under the Development the Caribbean and Code Sprint (DevCa2019) regional innovation event this May, coordinated by the Caribbean Open Institute (COI). This year's theme will be "Smart communities, Smarter People"; Belize joins this initiative through the implementation of the "Promoting an Open Government Ecosystem in Belize" project, conducted by the Trust for the Americas and the Organization of American States with the support of the Embassy of the United States in Belmopan. This will be the first opportunity to evaluate the Community Tourism Platform being developed, and validate the "Smart Community" concept. DevCA will include a Hackathon event where developers across the region will be able to "test-drive" the platform by creating Tourism Apps and Prototypes.
About The Trust for the Americas:
The Trust for the Americas is a nonprofit organization affiliated with the Organization of American States (OAS) whose mission is to promote alliances for economic and social inclusion in the Americas. Established in 1997, The Trust was created for the participation of the public sector, the private sector, and civil society initiatives in social and economic development in Latin America and the Caribbean. The organization's initiatives improve communities' access to economic opportunities, better citizen security, and opportunities for democratic expression and governance. The Trust for the Americas provides local partner organizations with training tools, services, products and technical assistance to better serve vulnerable communities in the region. Visit: www.trustfortheamericas.org
Facebook: The Trust for the Americas Twitter: @@Trust4Americas