Microsoft and The Trust for the Americas Increasing Opportunities for Brazilian Youth Through Technology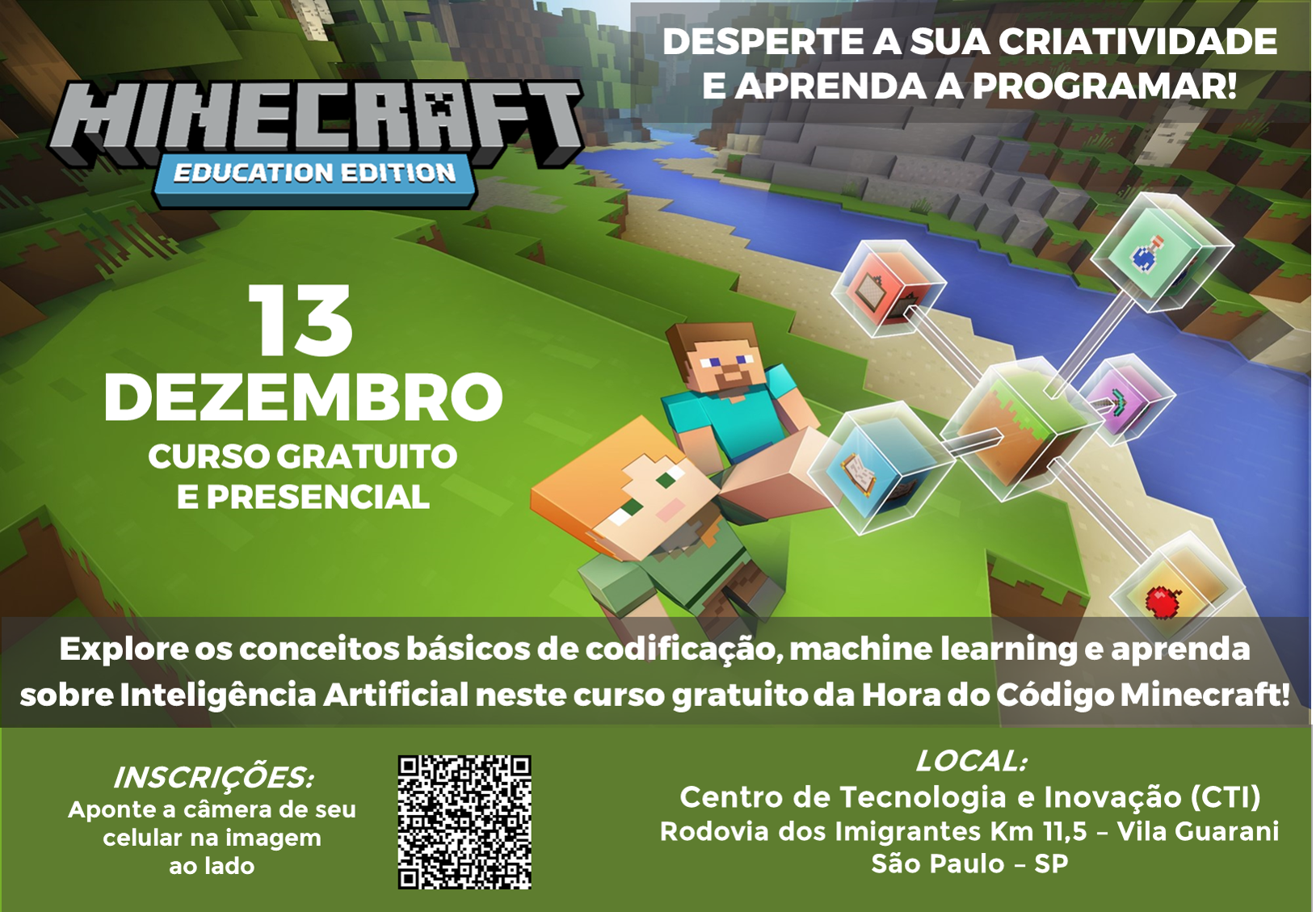 • Minecraft Code Time: Education Edition invites young people to learn about Computer Science through programming on December 13 at POETA Centers in São Paulo, Ceará, Distrito Federal and Paraná, Brazil.
Sao Paulo, Brazil. (23-09-2019) – Brazilian youth will be given an opportunity to acquire critical, logical, and problem-solving skills to navigate information and communications technologies in the next decade through Microsoft's Minecraft Hour of Code: Education Edition. The Trust for the Americas and Microsoft Corporation will soon teach basic coding concepts in a one hour set of activities at POETA centers in four Brazilian cities.
The event will consist of one-hour sessions, teaching basic coding concepts, and the use of Artificial Intelligence (AI). A game interface will guide students to help an "agent" detect and prevent outbreaks of forest fires using Artificial Intelligence techniques using Microsoft MakeCode language. At the end of the hour, participants will receive a certificate.
As part of this campaign, The Trust for the Americas and Microsoft Brazil will host a programming week on December 13th, at the POETA Centers in São Paulo, SP, Maracanaú, CE, Brasilia, and Curitiba, PR. More than 80 youth, including persons with disabilities will be given an opportunity to participate. Several professionals from Trust for The Americas' local partners will also participate.
Linda Eddleman, Executive Director of The Trust for the Americas, explained, "Jobs now and in the future will demand new abilities and skills. The Trust for the Americas is dedicated to facilitating these skills for youth in the Americas. We will bridge the skills gap among young people, with the support of private companies and governments."
Minecraft Hour of Code: Education Edition is part of the digital transformation that Microsoft is implementing regionally and globally. Computer science is an essential basis for the skills young people require. Microsoft is committed to assuring students from less privileged communities will have access to education and computer skills through partnerships with educators, schools and other local partners.
Pierina Nepote, Project Manager of The Trust for the Americas, added, "It is vital to work closely with educators. We support them with initiatives such as the Minecraft Hour of Code to promote logical thinking and computer skills in youth. Educators inspire us with their commitment by supporting their students' efforts to obtain and strengthen skills needed to compete for better lives. "
The Minecraft Hour of Code is an unparalleled opportunity for children, young people, adults, and educators to acquire critical, logical, and problem-solving thinking skills.
About Microsoft
Microsoft allows digital transformation in the era of the smart cloud and the intelligent frontier. Its mission is to empower every person and organization to achieve more. Microsoft Brazil has been in Brazil for 30 years and is one of the 110 subsidiaries of Microsoft Corporation, founded in 1975. Since 2003, the company has invested more than R$451 million to bring free technology to 5,757 NGOs in Brazil, benefiting several social projects. Since 2011, Microsoft has supported more than 7,000 new companies in Brazil, providing more than $ 202 million in cloud credits.
About The Trust for the Americas:
The Trust for the Americas is a non-profit 501(c)(3) organization affiliated with the Organization of American States (OAS). It was established in 1997 to promote public and private sector participation in social and economic development projects in Latin America and the Caribbean. Our initiatives, implemented through local partner organizations, seek to improve access to economic opportunities as well as to foster innovation in vulnerable communities in the hemisphere. To this end, The Trust also promotes social inclusion and good governance. The Trust has offices in Washington, D.C., Colombia, and Canada.
More information: www.trustfortheamericas.org
Facebook: The Trust for the Americas Twitter: @Trust4Americas