The "Hack 4 Change" Regional Hackathon Sparked Young Caribbean Innovators to Showcase Tech-Based Solutions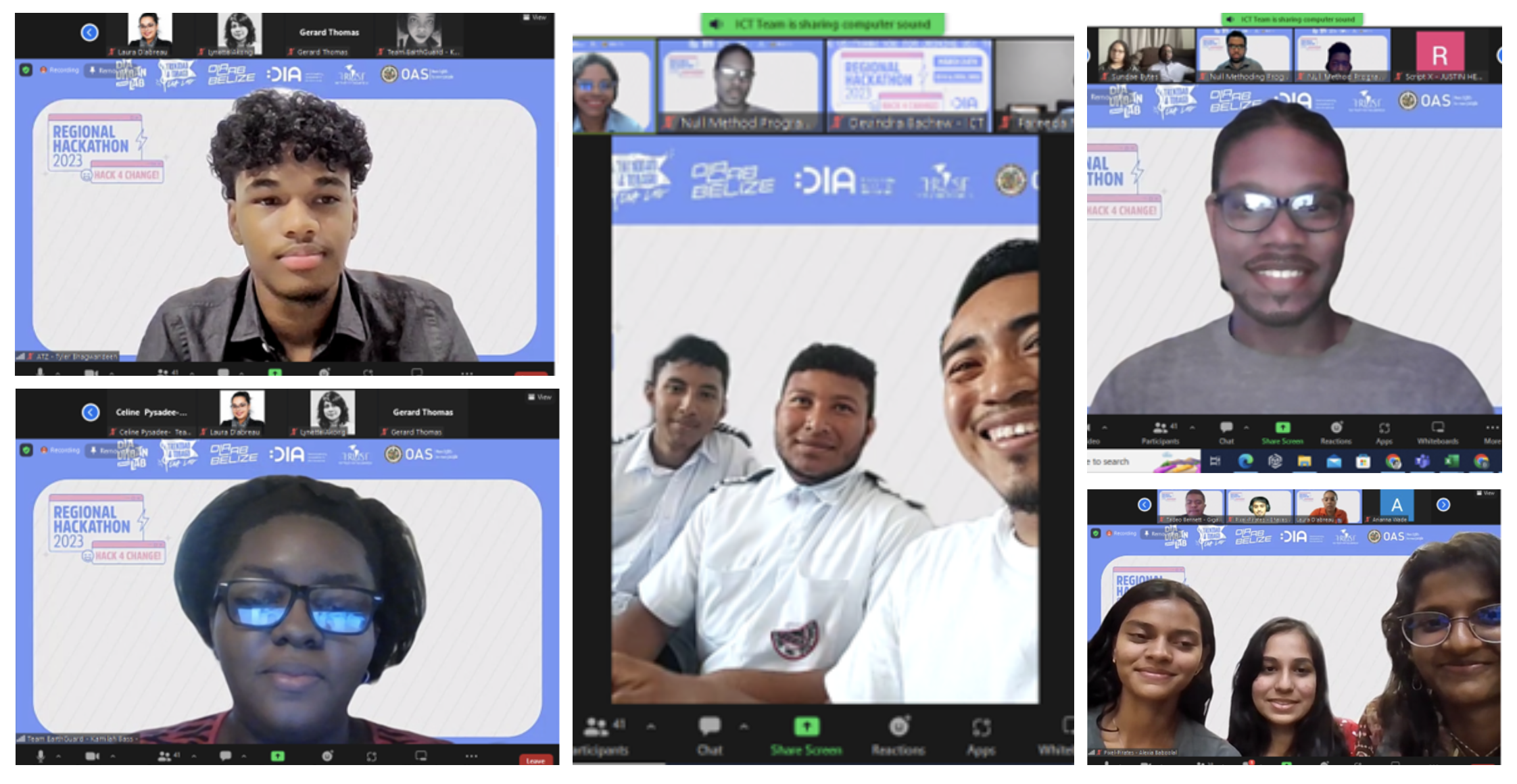 "Hack 4 Change" Regional Hackathon
Port of Spain. March 28th, 2023. In an exciting virtual event, the "Hack 4 Change" Regional Hackathon brought together young innovators from Trinidad and Tobago, Jamaica, and Belize. This idea-making event was organized by The Trust for the Americas' local partner, the Caribbean Industrial Research Institute (CARIRI), and focused on challenging participants from the Democratizing Innovation in the Americas' Lab network to develop innovative tech-based solutions.
As part of the challenge, 15 participating teams comprising developers, subject matter experts, and idea generators had 48 hours to craft an ICT solution for three priority domains: Technology, Creative Economies, and Climate Action, hoping to receive USD 1,000 in seed funding. All the teams showcased their passion, creativity, and commitment to developing impactful ideas, giving difficulty to the panel of multidisciplinary judges, including Lynette Akong, Gerard Thomas, Miguel Andrews, and Camille Pagee, who carefully evaluated each proposal. Winners were selected for each country:
From the DIA Lab Trinidad and Tobago:
Sundae Bytes: an e-learning app that uses VR technology to take students on virtual field trips to educational and historical locations. It aims to inspire curiosity, encourage learning, and promote climate action.

Pandalytics: an education technology project that helps migrant and disenfranchised children access formal education through a curated platform with public information. The platform is presented through an easy-to-use dashboard and aims to bridge the educational access and equity gap for underserved children.

Null Method Programming Concepts: an education technology project that utilizes AI to enhance student learning through QuizzifAI, a powerful application that generates multiple-choice quizzes based on provided topics. The app can generate an unlimited number of questions and provide targeted feedback on students' answers.
From the DIA Urban Lab Jamaica:
Team Baro: an app that addresses the lack of student engagement, ownership, and collaboration in traditional learning environments by providing a more engaging and personalized learning experience.

Apply Digital: a web application that supports and promotes indigenous culture by providing a platform for sharing knowledge, traditions, and way of life. The project aims to eradicate cultural erasure by preserving and celebrating indigenous cultures' unique and valuable contributions.
From the DIA Lab Belize:
HackITBAC: an education technology project that addresses the issue of broken communication and collaboration during the learning process. The project achieves this by developing a web application as a platform for teachers and students to interact and learn together.

Gigacoders: a web application that aims to increase appreciation of cultural and local music in the Caribbean by making the music experience more accessible.
Rodrigo Iriani, DIA Senior Program Manager at The Trust for the Americas, expressed: "48 hours of idea generation and conceptualization have produced some truly impressive and innovative proposals. I am amazed by the quality and creativity of these ideas. We are immensely proud of the youth who participated in this Regional Hackathon and inspired to continue fostering innovation. These tech-based solutions are exactly what the region needs to tackle its most pressing problems. Keep thinking out of the box and pushing the boundaries of what's possible!"
These initiatives celebrate these young innovators' achievements and highlight the importance of empowering, connecting, and inspiring the next generation of multi-sector innovators and entrepreneurs. In its third edition, the DIA Regional Hackathon aims to generate livelihood opportunities across the region by nourishing Innovation. By providing a platform for young Caribbean innovators to showcase their talents and exchange ideas, the "Hack 4 Change" Regional Hackathon is helping to build a brighter future for the region and beyond.
***
About The Trust for the Americas:
The Trust for the Americas is a non-profit 501(c)(3) organization affiliated with the Organization of American States (OAS). It was established in 1997 to promote public and private sector participation in social and economic development projects in Latin America and the Caribbean. Our initiatives, implemented through local partner organizations, seek to improve access to economic opportunities as well as to foster innovation in vulnerable communities in the hemisphere. To this end, The Trust also promotes social inclusion and good governance. The Trust has offices in Washington, D.C., Colombia, and Canada.
More information: www.trustfortheamericas.org
Facebook: The Trust for the Americas | Twitter: @Trust4Americas
Belize
-
Jamaica
-
Trinidad & Tobago