The Governance Lab at NYU Tandon Announces the Launch of the Multi-City Challenge Program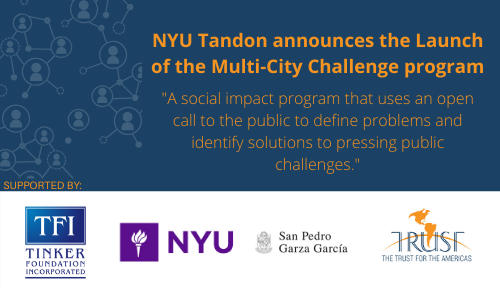 An initiative supported by The GovLab, NYU, The Trust, Tinker Foundation, Consejo de Nuevo León and the Municipality of San Pedro Garza García
The Governance Lab at NYU Tandon Announces the Launch of the Multi-City Challenge Program
http://thegovlab.org/the-governance-lab-at-nyu-tandon-announces-the-launch-of-the-multi-city-challenge-program/
BROOKLYN, New York, December 10, 2019 — The Governance Lab (The GovLab) at New York University Tandon School of Engineering announced the re-launch of the Multi-City Challenge program, an effort to help cities and their residents collaboratively design solutions to urgent public problems. The initiative, supported by the Tinker Foundation, and in collaboration with Consejo Nuevo León, The Trust for the Americas, and the Municipality of San Pedro Garza García, seeks to build on the success of The GovLab's City Challenges program, by expanding the program to run in five Mexican cities simultaneously in order to take advantage of the collective intelligence of a broader network of citizens to solve urban challenges.
City Challenges, which originally launched in 2016, is a social impact program that uses an open call to the public to define problems and identify solutions to pressing public challenges. Uniquely, following this "open innovation" competition and the selection of promising proposals, the winning community teams are provided with expert coaching alongside the responsible civil servants in order to facilitate the rapid and successful implementation of their proposals and support mutual learning between city government and residents.
Upon completion of the first pilot in San Pedro Garza García, Mexico in 2016, the City implemented five out of ten projects. For example, the school mobility program that encourages people to use alternatives to private transportation has grown from 11 to 26 schools, and the plan is to scale it to a program that also incorporates public servants and businesses.
For the Multi-City Challenge, The GovLab will partner with five local governments and their residents in northern Mexico to define concrete and important public problems, design and implement open innovation challenges to solve them, and coach and mentor challenge winners so that solutions can be rapidly implemented.
"Running a City Challenge simultaneously across multiple cities will generate pooled resources, including expertise that make up for the absence of effective policymaking resources in medium and small cities," said Professor Beth Simone Noveck, Director of The GovLab. "Most of these cities are facing very similar challenges such as poor air quality or increased traffic. The combination of competition and coaching within and across communities promises cost savings, more effective and, above all, more implementable solutions."
The Multi-City Challenge program will run for nine months. The Multi-City Challenge expands the number of concurrently participating cities, allowing the municipalities to pool expertise from their respective residents to discover and implement innovative solutions to urban challenges.
"In many cases, city governments need not look far to find the expertise needed to address the challenges they face," said Victoria Alsina, Professor and Senior Fellow at The GovLab. "Often it is their own civil servants and communities who are best positioned to identify where public services fall short, and who also possess the specialized knowledge needed to solve complex public challenges. Multi-City Challenge is about tapping into that knowledge and expertise, and mobilizing it."
"In Mexico we need more public policies that are results-oriented, evidence-based and inclusive," said Alejandra Mendoza, Project Coordinator. "The Multi-City Challenge is a great mechanism to achieve this by empowering the community and public servants to work together in making their cities more sustainable."
The Municipality of San Pedro Garza García, which participated in GovLab's initial City Challenge program, will co-sponsor this Multi-City Challenge and serve as one of the five participating cities. The remaining four cities shall be chosen by an international and Mexico-based Board of Advisors, following a competitive process.
For more information about City Challenges, click here or contact info@thegovlab.org. If you are a municipality from Northern Mexico interested in participating in the Multi-City Challenge open call for cities, please complete this short form. The open call will be published at the end of January 2020.
About The Governance Lab at the NYU Tandon School of Engineering
The Governance Lab's mission is to improve people's lives by changing the way we govern. Our goal at The GovLab is to strengthen the ability of institutions — including but not limited to governments — and people to work more openly, collaboratively, effectively, and legitimately to make better decisions and solve public problems. We believe that increased availability and use of data, new ways to leverage the capacity, intelligence, and expertise of people in the problem-solving process, combined with new advances in technology and science, can transform governance. We approach each challenge and opportunity in an interdisciplinary, collaborative way, irrespective of the problem, sector, geography, and level of government. For more information, visit thegovlab.org.
About the Tinker Foundation
The Tinker Foundation was established in 1959 by Edward Larocque Tinker, who believed that the wellbeing of the peoples of the Americas depended upon their mutual trust, friendship, and cooperation. Tinker's current mission is to promote the development of an equitable, sustainable, and productive society in Latin America, with a commitment to funding organizations based in the region. Through its grantmaking, Tinker supports work in the areas of democratic governance, education, and sustainable resource management.
About the Trust for the Americas
The Trust for the Americas is a non-profit 501(c)(3) organization affiliated with the Organization of American States (OAS). It was established in 1997 to promote public and private sector participation in social and economic development projects in Latin America and the Caribbean. Our initiatives, implemented through local partner organizations, seek to improve access to economic opportunities as well as to foster innovation in vulnerable communities in the hemisphere. To this end, The Trust also promotes social inclusion and good governance. The Trust has offices in Washington, D.C., and a local presence in Colombia and Canada. For more information, visit www.trustfortheamericas.org
About the New York University Tandon School of Engineering
The NYU Tandon School of Engineering dates to 1854, the founding date for both the New York University School of Civil Engineering and Architecture and the Brooklyn Collegiate and Polytechnic Institute (widely known as Brooklyn Poly). A January 2014 merger created a comprehensive school of education and research in engineering and applied sciences, rooted in a tradition of invention and entrepreneurship and dedicated to furthering technology in service to society. In addition to its main location in Brooklyn, NYU Tandon collaborates with other schools within NYU, one of the country's foremost private research universities, and is closely connected to engineering programs at NYU Abu Dhabi and NYU Shanghai. It operates Future Labs focused on start-up businesses in downtown Manhattan and Brooklyn and an award-winning online graduate program. For more information, visit http://engineering.nyu.edu.
About the Consejo Nuevo León
The Nuevo León Council for Strategic Planning is a non-partisan, consultative and proactive State agency regarding strategic planning and its evaluation. Its objective is to plan and evaluate public policies for the long-term development of Nuevo León and the well-being of all its inhabitants, based on the State Strategic Planning Law. For more information visit http://www.conl.mx.