Innovation Lab in Trinidad & Tobago Celebrates First Year of Empowering Youth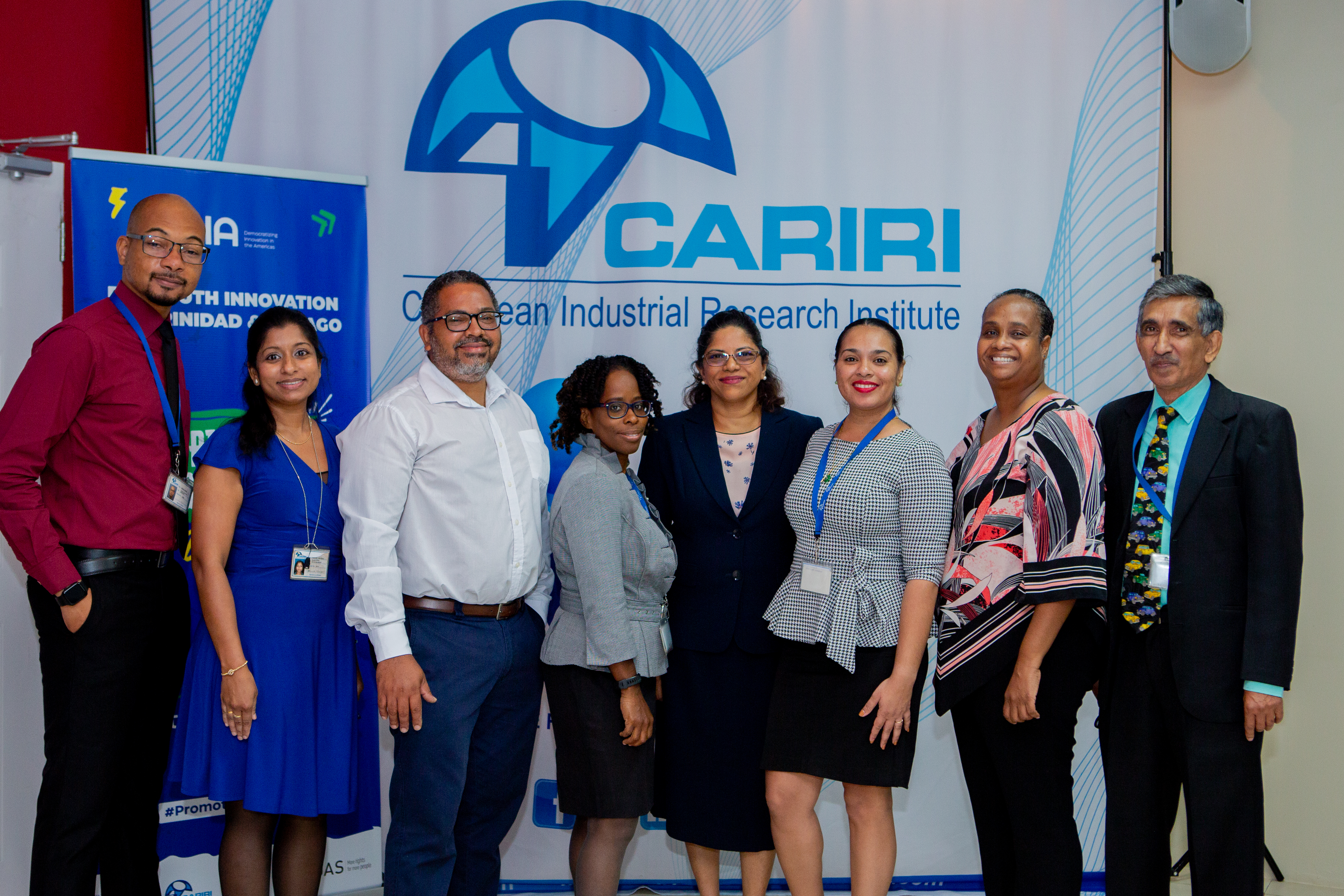 2021 closing event for DIA Youth Innovation Lab in Trinidad and Tobago
April 7, 2022 - Port of Spain, Trinidad and Tobago - After almost a year of primarily virtual facilitation due to the COVID-19 pandemic, the DIA Youth Innovation Lab in Trinidad and Tobago commemorated its first milestone with an on-site event to celebrate its achievements and announce the opening of the Lab's space. 
Ms. Patricia De Leon Henry, National Director, National Social Development Programme - Ministry of Social Development and Family Services; Professor Stephan Gift, Director - CARIRI Board; Mr. Megnath Gosein, Executive Manager - CARIRI; Mr. Shedron Collins, General Manager - Youth Business Trinidad and Tobago; guest speaker and entrepreneur Joshua Regrello; and Lab's beneficiaries such as Jonathan Roach, creator of the project "The Seasoning Source" attended the event.
Furthermore, The Honorable Minister Foster Cummings, Ministry of Youth Development and National Service; Mr. Mitch De Silva, Citi Country Officer for Trinidad & Tobago; Mr. Renzo Angeles, Cash Market Manager and Sales Head for Citi Trinidad & Tobago; Mr. Rodrigo Iriani, Senior Program Manager DIA Program - The Trust for the Americas; and Mr. Quimey del Rio, Senior Project Officer DIA - The Trust for the Americas joined virtually.
This project is implemented by The Trust for the Americas' regional program — Democratizing Innovation in the Americas (DIA) — in partnership with The Caribbean Industrial Research Institute (CARIRI), and with the financial support of the Citi Foundation. It promotes innovation and the creation of low-cost, high-impact, and sustainable projects for the youth in Trinidad and Tobago to generate livelihood opportunities and improve the quality of life of members of vulnerable communities. 
In 2021 and through access to technology, training, and competitive seed funds, the DIA Lab Trinidad and Tobago sensitized(1) 80 participants and has directly benefited the lives of 118 participants. 31 of whom have developed projects or entrepreneurial ventures, and 16 have received seed funding after winning pitch tanks and hackathon competitions. 
The recent pandemic made clear the dire need to inject technical, vocational, and skills training to bolster the global economy. To this effect, The Honorable Minister Foster Cummings, Minister of the Ministry of Youth Development and National Service (MYDNS), recognized this DIA Lab as: "the first of its kind in Trinidad and Tobago." He continued: MYDNS is cognizant that there needs to be more emphasis on entrepreneurship and enterprise development as we continue to engage our young people as job creators as opposed to job seekers. Therefore, at the Ministry, we have prioritized supporting all initiatives such as the DIA Innovation Lab that acts as a vehicle for developing and implementing opportunities that would benefit our 550+ young people in the country."
According to the Inter-American Development Bank, approximately one in five youth between the ages of 15 to 24 in the Caribbean are not in school nor part of the workforce(2). The DIA Innovation Labs triggers empowerment and innovation among youth with digital and entrepreneurial skills, which are crucial elements for economic growth. Over two months, every graduate of the DIA Lab completed a 40-hour training program specializing in computer, marketing, financial, and life skills. 
Mr. Mitch De Silva, Citi Country Officer for Trinidad & Tobago, shared how important these social initiatives are to Citi Foundation, who can support them locally and abroad. He also reminded the audience of the importance youth empowerment has on future leadership while taking the opportunity to congratulate the participants. "I hope you can reap the benefits of gaining new skills and enhancing old ones through the program. Regardless of what success means to each and every one of you, this acquired knowledge will help you achieve it, both on a personal and professional level. Share this experience with your homes and communities and, as you grow, help others grow with you."
Professor Stephan Gift, CARIRI Board Director, commented: "The board and staff at CARIRI are excited about this program and the opportunity it offers. Our institute is vigorously pursuing its mandate of stimulating and facilitating innovation and entrepreneurship in our country and across the region. Young people are yearning for experiences and exposure to opportunities such as this. The DIA Lab will assist them in acquiring skills that will enable them to become successful citizens making meaningful contributions to our society and, hopefully, assisting in economic transformation."
The DIA Youth Innovation Lab in Trinidad and Tobago is a clear example of collaborative effort and the relevance of establishing partnerships across sectors. Thanks to the generous support of Citi Foundation, the DIA Innovation Labs have positively impacted the lives of 3,263 people. Also, alongside Citi Foundation, The Trust for the Americas has launched the DIA Urban Lab in Jamaica (2016). It has commenced operations in the Dominican Republic with a Spanish-speaking Lab, further nurturing youth empowerment in the Caribbean. 
We invite you to watch a virtual tour of the Lab! If you live in Port of Spain and would like to become a participant in the DIA Lab, please send an email to dia@trust-oea.org
Source of Information
1. Sensitized: People that have used the lab's facility and equipment, and have attended seminars, workshops, summits, and/or have received training without completing the 40-hour training program.
2. Inter-American Development Bank: "How can we help "unattached" youth transition into the workforce? Link
***
About The Trust for the Americas: 
The Trust for the Americas is a non-profit 501(c)(3) organization affiliated with the Organization of American States (OAS). It was established in 1997 to promote public and private sector participation in social and economic development projects in Latin America and the Caribbean. Our initiatives, implemented through local partner organizations, seek to improve access to economic opportunities as well as to foster innovation in vulnerable communities in the hemisphere. To this end, The Trust also promotes social inclusion and good governance. The Trust has offices in Washington, D.C., Colombia, and Canada. 
More information: www.thetrustfortheamericas.org  
Facebook: The Trust for the Americas  Twitter:   @Trust4Americas 
About Democratizing Innovation in the Americas (DIA):
DIA is a regional initiative launched to foster innovation and empower new generations through access to technology training, specialized curricula, collaboration spaces, mentorship, and financial resources for social and economic ventures.
About Citi:
Citi, the leading global bank, has approximately 200 million customer accounts and does business in more than 160 countries and jurisdictions. Citi provides consumers, corporations, governments, and institutions with a broad range of financial products and services, including consumer banking and credit, corporate and investment banking, securities brokerage, transaction services, and wealth management.
Additional information may be found at www.citigroup.com | Twitter: @Citi | YouTube: www.youtube.com/citi | Blog: http://blog.citigroup.com | Facebook: www.facebook.com/citi | LinkedIn: www.linkedin.com/company/citi.
About Citi Foundation:
The Citi Foundation works to promote economic progress and improve the lives of people in low-income communities around the world. We invest in efforts that increase financial inclusion, catalyze job opportunities for youth, and reimagine approaches to building economically vibrant communities. The Citi Foundation's "More than Philanthropy" approach leverages the enormous expertise of Citi and its people to fulfill our mission and drive thought leadership and innovation. For more information, visit www.citifoundation.com.