DIA Urban Lab awards 15 youth with funding to jumpstart ventures and signs agreement with PSOJ to create mentorship program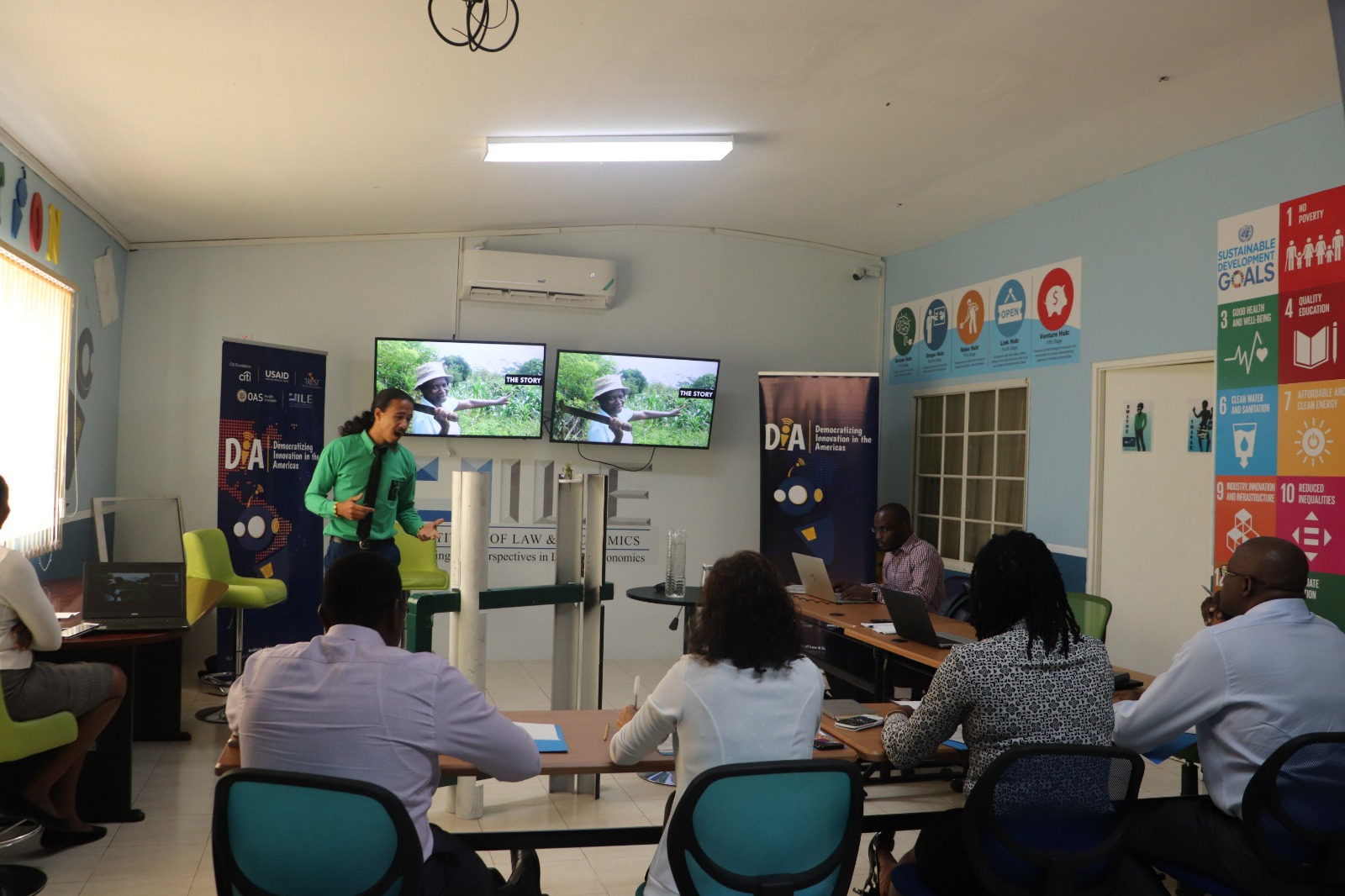 "TSOTARE is about bringing the future of work to farmers. Simple technology to improve labor-intensive work, enhance production and maximize space. This is to encourage youth and show them that agriculture is innovation at its best." Yanque Yip
Since 2016, the DIA Urban Lab - Democratizing Innovation in the Americas – has benefited over 1,100 youth and provided grants to 68 innovative projects.
Kingston, Jamaica (04/09/2019) — During the weekend, the DIA Urban Lab Project held an Innovation Camp, where 20 finalists, selected from a pool of 37 qualified participants attended to refine presentation skills prior to pitching projects for seed funding. Today, 15 youth received financial support to jumpstart their ventures. In the event, participants received feedback and congratulations from businessman Michael Lee Chin, Citi FI Head Christopher Johnson, PSOJ President Howard Mitchel and Organization of American States Secretary for Hemispheric Affairs James Lambert, and Trust CEO Linda Eddleman.
In addition, The Trust for the Americas and PSOJ-Private Sector Organization of Jamaica signed an agreement to create a program that will support DIA Pitch Tank winners with guidance, career development and mentorship. PSOJ President Howard Mitchell said, "The private sector recognizes that investment in human capital is perhaps the most important investment that can be made. Our members are eager to play their part in imparting knowledge and offering guidance to the next generation of business owners and contributors to the economy through this mentorship program'
DIA Jamaica is an initiative created by The Trust for the Americas, an affiliate of the Organization of American States, to empower a new generation of young entrepreneurs and innovators, who will act as agents of change in their communities. Launched in 2016 with support from Founding Donor Citi Foundation and collaboration from local partner the Institute of Law & Economics (ILE), the DIA Urban Lab – part of Democratizing Innovation in the Americas program– has awarded 68 seed funding opportunities and benefited over 1,100 young people through innovation training and access to state-of-the-arts technology. The DIA Lab in Jamaica is part of the DIA regional network with chapters in Belize, Colombia, Mexico, Costa Rica, and Panama.
Eva Lewis, Citi Country Officer, said, "For three years our Citi Foundation has been a major supporter of Jamaica's first DIA Urban Lab for Youth Innovation, where youth can hone their entrepreneurial talents and creativity with the ultimate goal to build and strengthen their communities and to date, we are pleased with the results"
DIA is part of Citi Foundation's Pathways to Progress global initiative to prepare young people with the career readiness tools and opportunities needed to thrive in today's economy. Pathway to Progress is comprised of programs, research, and partnerships like the one with Trust of the Americas, which help youth build an entrepreneurial mindset and acquire leadership.
About The Trust for the Americas:
The Trust for the Americas is a non-profit 501(c)(3) organization affiliated with the Organization of American States (OAS). It was established in 1997 to promote public and private sector participation in social and economic development projects in Latin America and the Caribbean. Our initiatives, implemented through local partner organizations, seek to improve access to economic opportunities as well as to foster innovation in vulnerable communities in the hemisphere. To this end, The Trust also promotes social inclusion and good governance. The Trust has offices in Washington, D.C., Colombia, and Canada.
For more information: www.trustfortheamericas.org
Facebook: The Trust for the Americas Twitter: @Trust4Americas
About the Organization of American States:
The OAS has 34 member states and it is the world's oldest regional organization. The Organization uses a four-pronged approach to effectively implement its essential purposes, based on its main pillars: democracy, human rights, security, and development. In Jamaica, the General Secretariat of the OAS, through is Department of Public Security, is implementing the project "A New Path", which seeks to improve the lives of at-risk youth and youth in conflict with the law. A priority of "A New Path" is to offer support for youth to address their emotional, social, educational, and economic challenges. It works with key areas that can enable the successful economic and social integration of the youth.
For more information: www.oas.org
Twitter: @OEA_Seguridad
About The Citi Foundation:
The Citi Foundation works to promote economic progress and improve the lives of people in low-income communities around the world. We invest in efforts that increase financial inclusion, catalyze job opportunities for youth, and reimagine approaches to building economically vibrant cities. The Citi Foundation's "More than Philanthropy" approach leverages the enormous expertise of Citi and its people to fulfill our mission and drive thought leadership and innovation.
For more information, visit www.citifoundation.com.
About ILE
The Institute of Law & Economics (ILE), is a private non-profit organization based in Kingston, Jamaica, established in 1998 to foster collaboration, innovation, research/consultancy, public education and discussion between the legal and economic professions, with a view to promoting a multi-disciplinary approach to sustainable development locally, and in the Caribbean Region. ILE has been working towards this through stimulating public discussions, high level training and debate in an objective, non-partisan and democratic manner, with a view to empowering our citizens while influencing national and regional policies that affect our lives.