First Regional DIA Social Innovation Summit in Costa Rica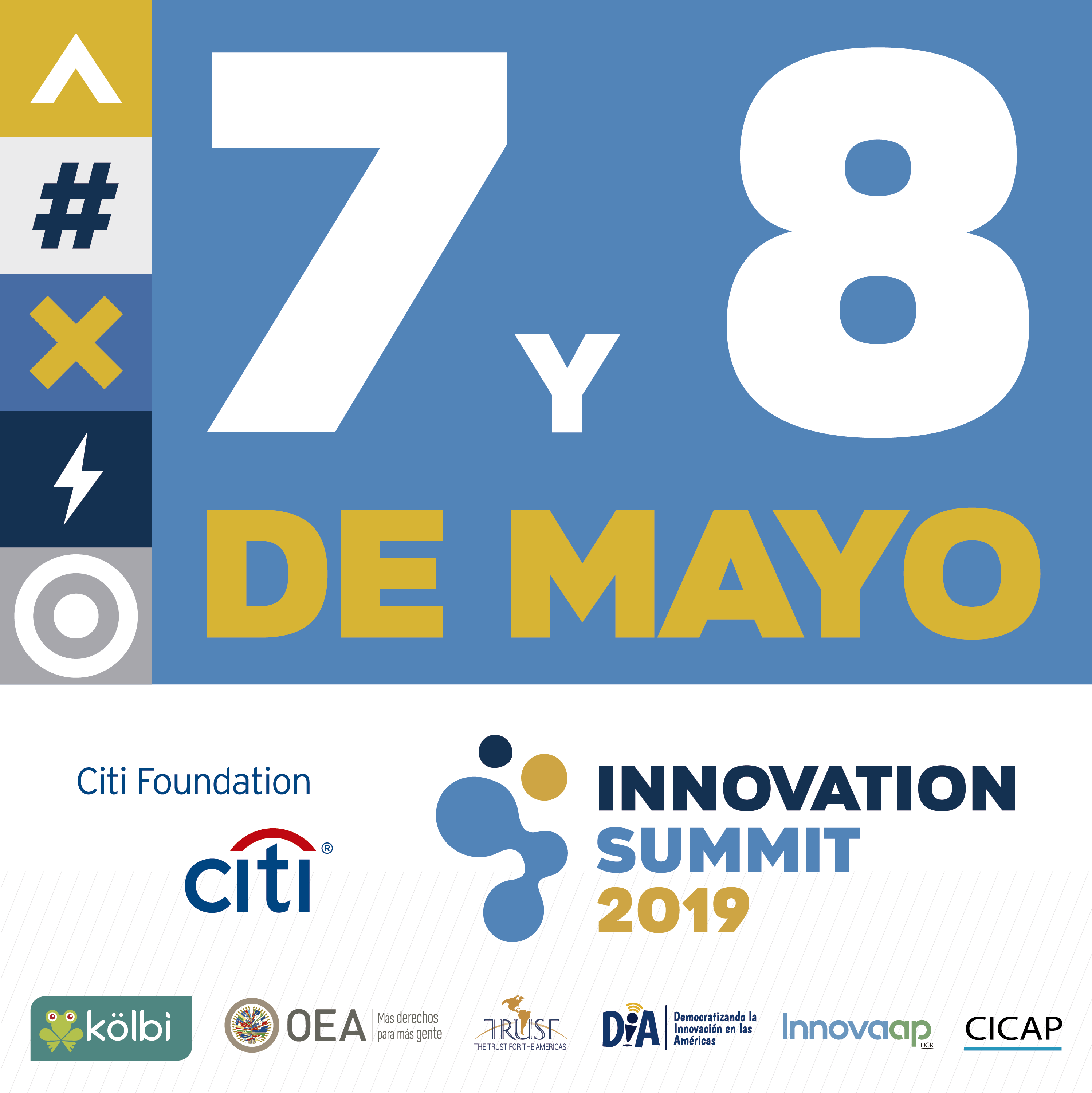 I DIA Social Innovation Summit
Washington, D.C., (23-04-2019) - The Trust for the Americas in partnership with the InnovaAP Public Administration Innovation Laboratory held the I DIA Social Innovation Summit in San Jose, Costa Rica from May 6 to 8. During the Summit, youth, NGOs, business and social leaders met to share their experiences and co-create innovative solutions to the challenges faced by each of their communities.
In 2015, The Trust for the Americas created the program "Democratizing Innovation in the Americas (DIA)". DIA is a regional initiative that encourages innovation and empowers new generations through access to advanced technology, creativity accelerators, collaboration spaces, personalized study programs, tutorials and financial resources for social and economic enterprises.
To date, the DIA program has benefited more than 5,000 youngsters directly and has incubated more than 160 social and technological innovation projects in Belize, Jamaica, Costa Rica, Colombia, Mexico and Panama.
Regarding the Innovation Lab and the DIA Program, Linda Eddleman, Executive Director of The Trust for the Americas commented: "The DIA program was designed to break stereotypes, deal with problems of daily life and create unexpected and innovative solutions with high impact in the communities. The added value of the program is based on its regional scope and the multisector commitment of all the actors and beneficiaries. The program has been successful in several countries and through the participation of different actors. That is why we can find government officials in Costa Rica, academics in Colombia, public servants in Belize, students in Mexico, and young people in the process of social reintegration, and entrepreneurs in Jamaica. This demonstrates the importance of creativity and innovation processes in our communities, and the importance for The Trust for the Americas to continue supporting governments to establish public - private partnerships that allow these programs to grow and benefit more people. "
On the first day of the summit the opening panel "Innovation at the service of citizens" to establish the mindset for the coming days. On the second and third day, participants had the opportunity to hear success stories from prominent speakers and attend the "Share" workshops where experiences were exchanged through interactive activities. During the summit, participants addressed urban solutions, as well as issues related to innovation for peace, inclusive innovation, profitable social innovation, open government and the creative economy, among other topics.
Among the speakers were Melania Guerra, the Polar Tica, oceanographer and Fellow of the Homeward Bound expedition; Dinorah Cantú, Fellow GovLab NYU and Director of Innovation and Citizen Participation of San Pedro, Nuevo León, Mexico; Priscila Chaves, social innovator and entrepreneur representative of Singularity University in Costa Rica and Eduardo Aracena Navarro, legal and financial coordinator of the Government Laboratory of Chile.
The summit was held at the San Pedro de Montes de Oca Research and Training Center for Public Administration of the University of Costa Rica.
Social Media:
Twitter: @Trust4Americas #DIASummit
Facebook: The Trust for the Americas
Instagram: @Trust4Americas
About The Trust for the Americas:
The Trust for the Americas is a nonprofit organization affiliated with the Organization of American States (OAS) whose mission is to promote alliances for economic and social inclusion in the Americas. Established in 1997, The Trust was created for the participation of the public sector, the private sector, and civil society initiatives in social and economic development in Latin America and the Caribbean. The organization's initiatives improve communities' access to economic opportunities, better citizen security, and opportunities for democratic expression and governance. The Trust for the Americas provides local partner organizations with training tools, services, products and technical assistance to better serve vulnerable communities in the region. Visit: www.trustfortheamericas.org
Facebook: The Trust for the Americas Twitter: @Trust4Americas