JAMAICAN ENTREPRENEURS RECEIVE FUNDING IN THE DIA LAB PITCH TANK COMPETITION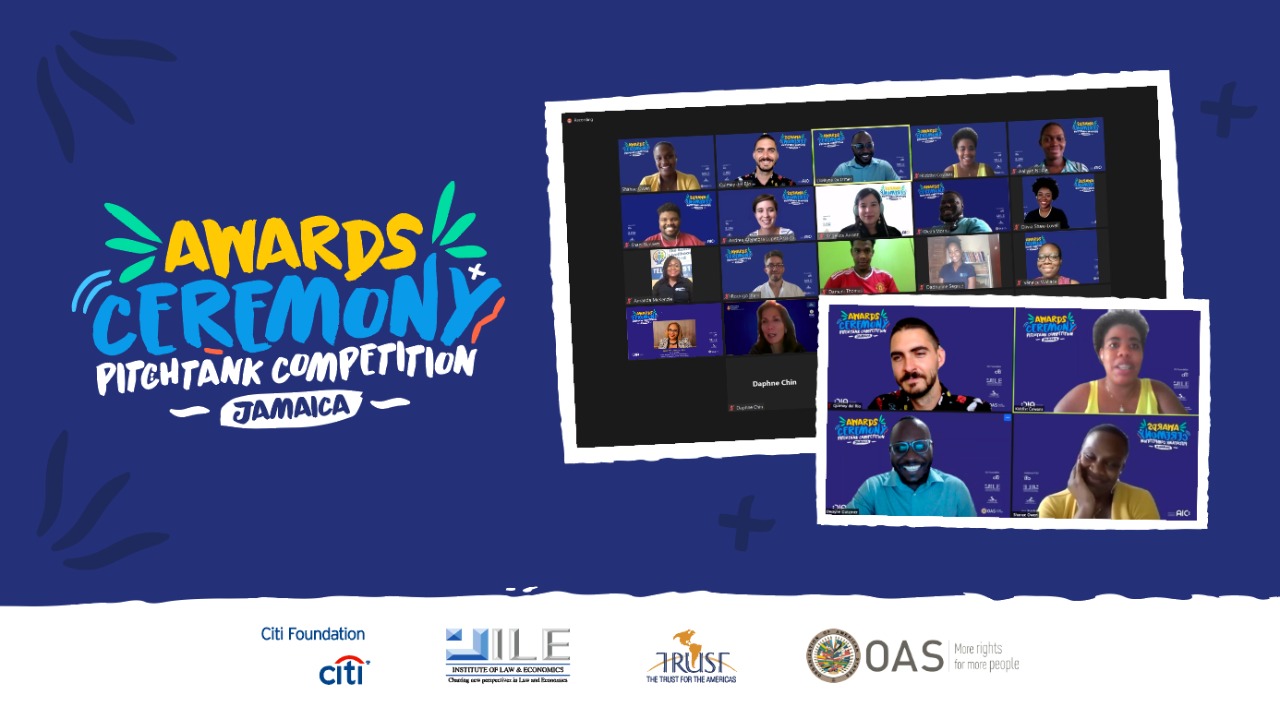 Kingston, Jamaica. For the last 6 years, The Trust for the Americas, in partnership with Citi Foundation, and the Institute of Law and Economics (ILE), has held a series of Pitch Tank Competitions as part of the DIA program to promote solutions that generate livelihood opportunities and good governance in the Caribbean by bringing together academia, civil society, government officials, private sector entities, entrepreneurs, and young innovators. The initiative's goal also aims to continue nurturing innovation and entrepreneurship in Jamaican youth. On August 12th, the best 22 endeavors were presented with certificates and funding of up to USD 1,000 during a virtual event.
High level public and private representatives attended the virtual event including, Ms. Jamie-Ann Chevannes, Senior Director of the Youth & Adolescents Policy Division (YAPD) from Jamaica's Ministry of Education, Youth & Information; Mrs. Linda Eddleman, Chief Executive Officer at The Trust for the Americas; Rodrigo Iriani, Senior Program Manager DIA; Quimey del Rio, Senior Program Officer DIA; Dwayne Gutzmer, CEO of the Institute of Law & Economics; and Shanae Owen, Project Officer and Lab Coordinator of ILE.
Ms. Chevannes, Senior Director of the Youth & Adolescents Policy Division from Jamaica's Ministry of Education, Youth & Information Youth's Division, commented: "I embrace all efforts done by the participants, especially in the field of sustainable agriculture. Due to the food security crisis that we face in Jamaica, we seek to encourage our youth to get involved and invest in activities that support agricultural production, capacity building, goods and services, logistics and value addition as service providers and entrepreneurs."
Linda Eddleman, Chief Executive Officer at The Trust for the Americas, stated: "Our DIA program has been fostering innovation and empowering new generations to engage in social and economic ventures for 6 years. And this competition is one of the most popular and highly anticipated events of the work done in Jamaica. All the participants have gone through weeks of rigorous boot camp training sessions to polish their venture concepts, presentation skills, and pitching abilities. We applaud all winners for producing out-of-the-box ideas that will boost and support their community development."
The DIA program has supported more than 100 participants with funding for their projects. Over USD 44,000 has been granted to kick start enterprises related to renewable fuel alternatives, data collection software, gender equality, sustainable agriculture, recycling, digital marketing, beauty and self-care, and more in the last two years
Rodrigo Iriani, Senior Program Manager DIA at The Trust for the Americas shared: "I am glad to say that this year 14 projects received USD 1,000.00 in seed-funding grants and other 8 initiatives received re-investment to take their ventures to the next level, which demonstrates the immense potential we have in our Lab, and how the guidance and leadership from the experts at the ILE team can have a positive impact in transforming an idea into reality. It also reminds us of how important it is to keep working despite the challenges we faced with the COVID-19 pandemic."
Through access to technology, collaborative spaces, training, and competitive seed funds, the DIA Innovation Lab, Citi Foundation, and The Trust for the Americas have benefited the lives of over 2,238 youngsters. Since 2016, Jamaican youth have acquired tools to develop their business ideas or create social projects to address local challenges.
--
About The Trust for the Americas: 
The Trust for the Americas is a non-profit 501(c)(3) organization affiliated with the Organization of American States (OAS). It was established in 1997 to promote public and private sector participation in social and economic development projects in Latin America and the Caribbean. Our initiatives, implemented through local partner organizations, seek to improve access to economic opportunities as well as to foster innovation in vulnerable communities in the hemisphere. To this end, The Trust also promotes social inclusion and good governance. The Trust has offices in Washington, D.C., Colombia, and Canada. 
More information: www.trustfortheamericas.org  
Facebook: The Trust for the Americas  Twitter:   @Trust4Americas