Women Economic Forum recognizes The Trust for the Americas for programs empowering women in the region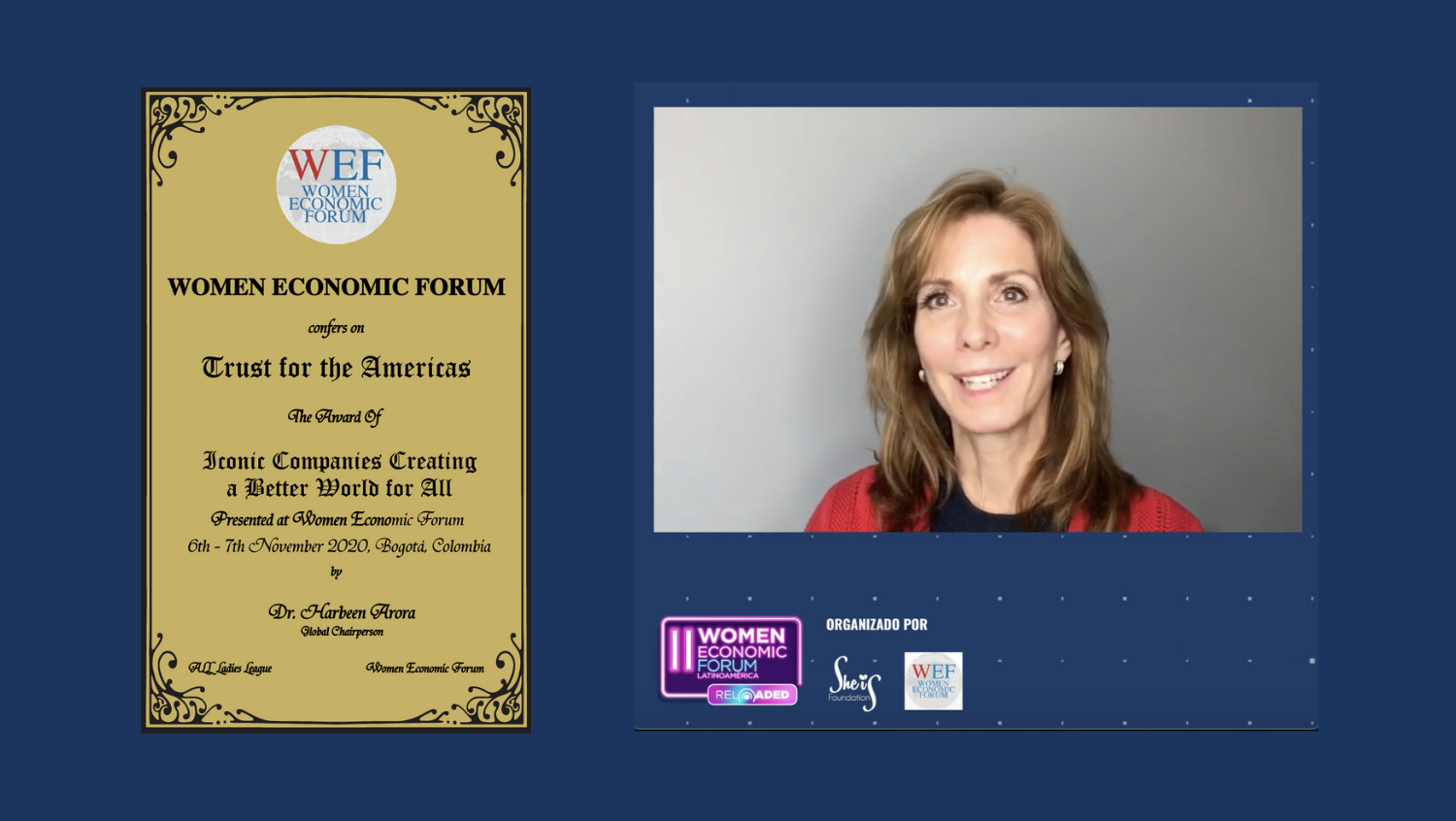 CEO Linda Eddleman accepts the "Iconic Companies that create a better world for all"
Washington D.C., November 6, 2020 – The Trust for the Americas receives the award "Iconic Companies that create a better world for all" during the Women Economic Forum (WEF) 2020 as recognition of its work focused on increasing women's economic empowerment through the implementation of Project VIVE in Mexico.
Linda Eddleman, CEO of The Trust for the Americas, said that "It is an honor to receive this award in recognition of Project VIVE, which we have implemented in Mexico for more than four years. In partnership with Walmart Foundation and Manpower Foundation in Mexico, the project has impacted more than seventy thousand people in a vulnerable situation. Eighty percent of the trainees are women".
The WEF award acknowledges "the compromise by companies in every sector towards creating an inclusive work environment within communities, and with a focus on gender equity and empowerment. It pays tribute to companies that are making a difference with enlightened entrepreneurship and innovative practices that advance both the economy and society".
Linda Eddleman praised the Project VIVE team "This achievement wouldn't have been possible without the commitment and passion of our team. More than 120 people have worked in this effort, the vast majority being women".
Also, she invited the audience to read the Recetario para Mujeres Poderosas: stories to inspire you, a book that compiles 70 success stories of Project VIVE's graduated women. This book is available at The Trust for the Americas website: (https://bit.ly/3oIoyhN).
The Women Economic Forum is dedicated to promoting women's economy, organized by the She Is Foundation Latin America. Due to the COVID-19 pandemic, this year's edition was an online event on November 6 and 7. The WEF reported attendance of more than 1,600 people and 246 academic sessions and networking spaces, thus promoting women's inclusion and the evolution of the economy in the future.
About The Trust for the Americas:
The Trust for the Americas is a non-profit 501(c)(3) organization affiliated with the Organization of American States (OAS). It was established in 1997 to promote public and private sector participation in social and economic development projects in Latin America and the Caribbean. Our initiatives, implemented through local partner organizations, seek to improve access to economic opportunities as well as to foster innovation in vulnerable communities in the hemisphere. To this end, The Trust also promotes social inclusion and good governance. The Trust has offices in Washington, D.C., Colombia, and Canada.
More information: www.trustfortheamericas.org
Facebook: The Trust for the Americas Twitter: @Trust4Americas