The Trust for the Americas launches Open Gov Steering Committee in Belize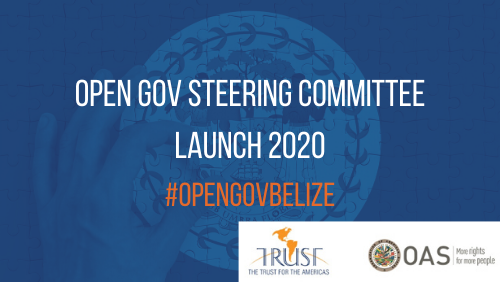 As part of the project Transformation to an Open Public Administration in Belize
As part of the second phase of an Open Government project: Transformation to an Open Public Administration in Belize, The Trust for the Americas in coordination with the Organization of American States (OAS), announces the official formation of an Ad-hoc Multi-stakeholder Steering Committee: The Belize Open Gov SC.
This Open Government project, through funding support from the US Embassy Belmopan, is working to strengthen the creation of networks and fostering multi-stakeholder collaboration, supporting a long-term process to spur innovation, improving local government services, and activating international support mechanisms for enabling Belize to join the Open Government global movement.
The Belize Open Gov SC is comprised of eleven member representatives with the objective to serve as the dialogue and decision-making mechanism to advance open government processes of the project and by extension the country of Belize. The installation of national open government committees is a well-established good practice around the world for those countries pursuing the strengthening of their open government efforts.
The Belize Open Gov SC includes six government agencies with representatives from: Office of the Prime Minister (Michael Singh, Advisor for eGovernance and Digital Transformation), Central Information Technology Office (Ian Smith, Executive Director), Economic Development Council (Ishmael Quiroz, Executive Director), Attorney General's Ministry (Imani Burgess, Crown Counsel), Department of Local Government (Clifford King, Director of Local Government) and the Integrity Commission (Deshawn Arzu Torres, Chairperson).
Five civil Society organizations with representatives from: Belize PEACE Movement (Paco Smith, Good Governance & Anti-Corruption/External Relations Liaison), Association of Tertiary Level Institutions of BelizeATLIB (Dr. Sharmayne Saunders, Chairperson), Belize Chamber of Commerce and Industry-BCCI (Dyon Elliott, Chief Policy Analyst), The Belize Mayors Association (Mayor Khalid Belisle, President) and the National Trade Union of Belize-NTUCB (Marvin Mora, President).
Rodrigo Iriani, Project Manager of the initiative, states ¨Essentially, the Open Government Steering Committee will play a pivotal role in supporting the coordination of participatory multi-stakeholder dialogues. Their ultimate contribution will reflect in the first draft of the National Open Government Action Plan for Belize.¨
For more information, please contact the Trust/OAS Local Project Coordinating Team, Ms. Audrey Robin (arobin@trust-oea.org), and Ms. Malenie Barnes (mbarnes@trust-oea.org).
Keep connected to the project at https://www.facebook.com/OpenGovBelize.
#OpenGovBelize
About The Trust for the Americas: The Trust for the Americas is a non-profit 501(c)(3) organization affiliated with the Organization of American States (OAS). It was established in 1997 to promote public and private sector participation in social and economic development projects in Latin America and the Caribbean. Our initiatives, implemented through local partner organizations, seek to improve access to economic opportunities as well as to foster innovation in vulnerable communities in the hemisphere. To this end, The Trust also promotes social inclusion and good governance. The Trust has offices in Washington, D.C., Colombia, and Canada.
More information: www.trustfortheamericas.org
Facebook: The Trust for the Americas
Twitter: @Trust4Americas