The Trust for the Americas of the OAS and the Office of the First Lady of Paraguay will Train Women Entrepreneurs and Artisans in Digital Education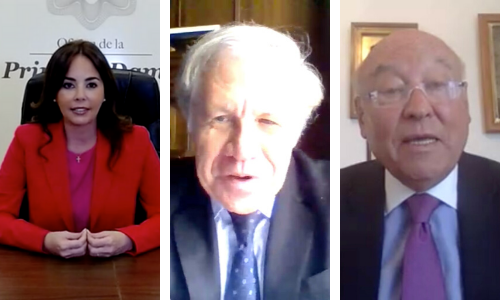 Foto (OEA): Primera Dama del Paraguay Silvana Abdó, Secretario General de la OEA Luis Almagro, Presidente del Directorio de The Trust for the Americas Luis Enrique García
Como parte del plan de expansión de operaciones en el cono sur, The Trust for the Americas firma convenio de entendimiento con la Oficina de la Primera Dama del Paraguay para implementar programas a fin de mejorar las oportunidades económicas de las mujeres paraguayas.

Esta iniciativa busca crear alianzas público – privadas para el desarrollo de programas de mejora de oportunidades económicas a través de habilidades digitales y emprendedurismo.

La firma se realizará virtualmente, siguiendo las indicaciones por la contingencia por COVID-19.
Washington DC, May 11, 2020.- TThe Trust for the Americas, an entity affiliated with the Organization of American States (OAS) and the Office of the First Lady of Paraguay, Silvana Abdo, agreed today - in a virtual meeting - to launch a technological training program for vulnerable populations in Paraguay with special emphasis on women entrepreneurs and artisans.

The Secretary General of the OAS, Luis Almagro, stressed that the initiative will provide digital education in times when the use of technology is crucial to improve economic growth. "We celebrate the signing of this agreement whose objective is to train and empower women entrepreneurs in Paraguay. The COVID-19 pandemic is hitting our economies hard and this initiative is an opportunity to generate sources of employment," said Secretary General Almagro.

For her part, First Lady Abdo indicated that the alliance between the Trust and her government will provide better possibilities and rights for the Paraguayan people. "The objective will be especially placed on the possibilities of improving the lives of women in our country so that they can use technology to improve their businesses and jobs, as well as disseminating and publicizing their companies and products," she said.

For his part, the Chairman of the Board of the Trust for the Americas, Enrique García, said that the alliance with the Paraguayan government will allow the development of a social inclusion program that will improve the economy of many low-income households. "Today more than ever, the times demand that we act quickly and efficiently to facilitate, together with local partners in each country, the skills that the most vulnerable populations need to cope, during and after overcoming the coronavirus pandemic in the region. We will work together on that," added García.

The initiative, which is in the design phase, will include public-private participation and will focus on digital and business training, as well as job skills, leadership, assertive communication, and the prevention of gender violence. The projects developed by the Trust for the Americas have a rate of access to economic opportunities of 55 percent of its graduates.