Patricia Villela Marino is recognized with The Trust for the Americas/OAS 2020 Humanitarian Award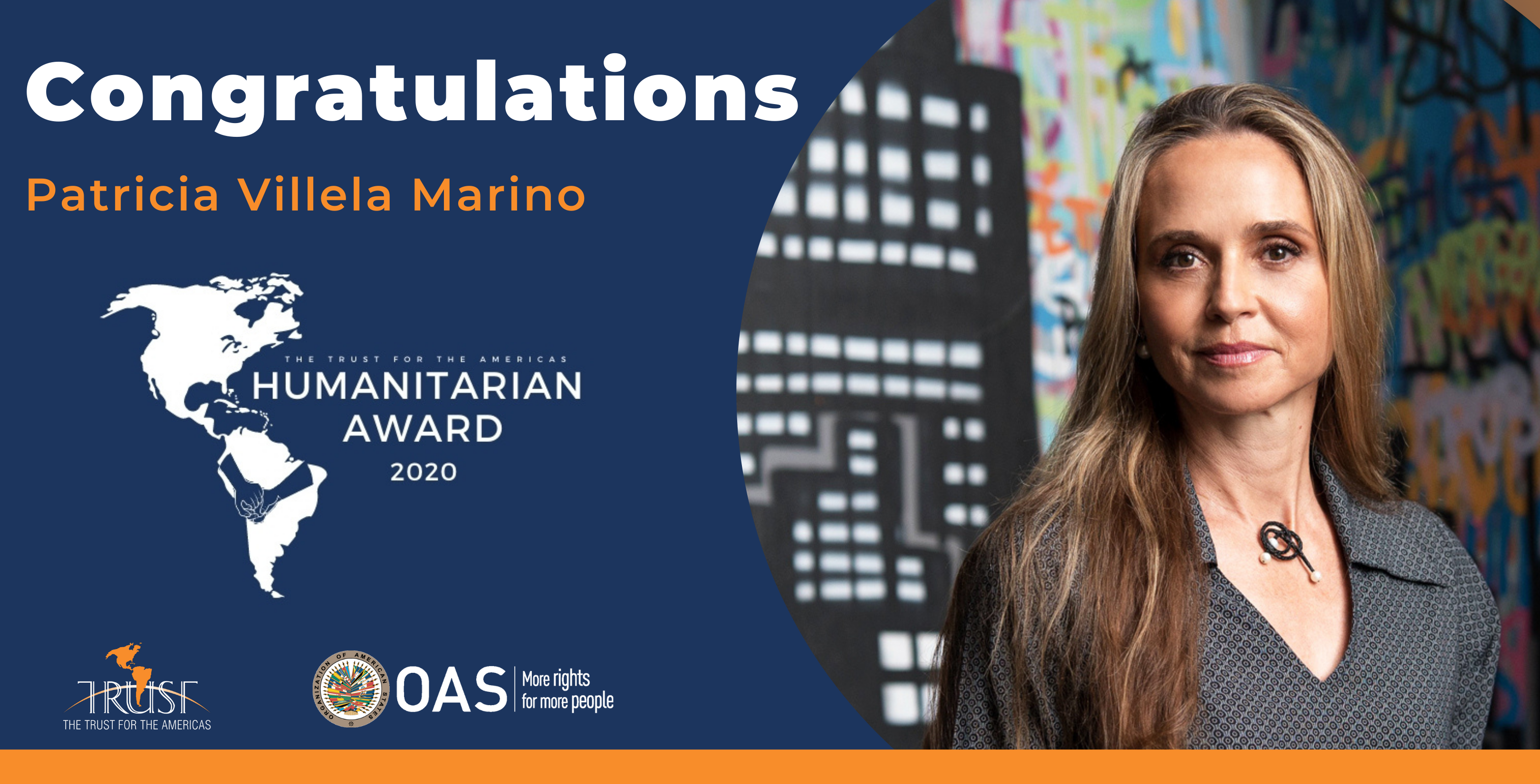 Patricia Villela Marino Trust/OAS Humanitarian of the year
Founder and President of Humanitas360 Institute and Co-Counder of Civi-Co, Patricia Villela Marino is acknowledged for her selfless dedication to providing incarcerated women in Brazil with vocational skills.

Previous winners of the Trust/OAS Humanitarian Award have

included the singer Juanes and President Bill Clinton.
Washington, D.C. December 8, 2020.- Initiatives to help the most vulnerable are more important than ever during this pandemic. The Trust for the Americas, an affiliate of the Organization of American States (OAS), recognizes an individual who has made a significant contribution this year to helping those most in need. The Executive Committee Board of The Trust for the Americas has selected Patricia Villela Marino as the winner of the 2020 Humanitarian Award for her leadership on programs that improve the odds for inmates and give them the tools to live productive and economically independent lives when they are released.
As Founder and President of Humanitas360 Institute and Co-Founder of Civi-Co, a workspace that brings together civic-social entrepreneurs, Patricia has demonstrated selfless dedication to creating opportunity where it is most needed. She creatively used technology to ensure prisoners can remain connected to their families and communities. She has cultivated spaces for women to receive workforce training while in prison, giving them the tools and connections required to open businesses in their communities. Patricia's efforts have reduced the pain of families waiting for the release of loved ones and dramatically lowered the odds of recidivism. Her efforts will empower these women to live fulfilling lives.
Enrique García, Chairman of the Board of Directors of The Trust for the Americas, said, "(Patricia) your work in helping incarcerated people connect to their families through technology is one example of purely humanitarian effort during this distraught time. These people and all of Brazil are better off for your work. We deeply appreciate your commitment to educating former prison inmates and their families to allow them to start a new chapter in their lives and become productive members of society. This work is imperative for more inclusive societies."
After receiving the award Mrs Patricia Villela Marino declared: "2020 has been a difficult year for everyone, particularly in our region, where the poor are the most susceptible to the health and economic consequences of Covid-19 and often must decide between staying home and losing their jobs, or going to work and risking contagion. It's the kind of heartbreaking decision that millions of parents make every day. By bringing people together, we can make a real difference and begin to break down the barriers that divide us. We can cultivate an environment that gives everyone a voice, and a reason to listen to those around them. This is the ultimate mission for Humanitas360: to foster a society that recognizes all of us – including and especially our most vulnerable – have extraordinary value. And through this recognition, we are able to work together to achieve a common goal."
This Humanitarian Award reflects the mission of The Trust to promote inclusion and development by harnessing the power of digital tools and resilience as critical components on the path to economic recovery in the region. Previous winners have included the musician, Juanes, for his work on behalf of people with disabilities in Colombia, and President Bill Clinton for the work of The Clinton Foundation in Haiti.
The award was presented by Secretary General Luis Almagro Lemes in an online ceremony on December 8th, 2020.
About Patrícia Villela Marino
Patricia is the Founder and President of the Humanitas360 Institute and co-founder of Civi-Co, a workspace that brings together civic-social entrepreneurs. She holds a law degree from Mackenzie University in São Paulo, and was a guest student in the course on Philanthropy and the Third Sectors at the John F. Kennedy School of Government at Harvard University. She is a founding member of the Global Shapers advisory board of the World Economic Forum and created the São Paulo hub, a group of young Brazilian leaders within the Global Shapers Community. She also guided the establishment of the Latin American Platform on Drug Policy (PLPD). In addition, at the invitation of then Colorado Governor John Hickenlooper, Patricia was a member of the Executive Board of the Biennial of Americas, which convenes leaders from around the hemisphere in a fusion of art, music, culture and idea exchange.
About The Trust for the Americas:
The Trust for the Americas is a non-profit 501(c)(3) organization affiliated with the Organization of American States (OAS). It was established in 1997 to promote public and private sector participation in social and economic development projects in Latin America and the Caribbean. Our initiatives, implemented through local partner organizations, seek to improve access to economic opportunities as well as to foster innovation in vulnerable communities in the hemisphere. To this end, The Trust also promotes social inclusion and good governance. The Trust has offices in Washington, D.C., Colombia, and Canada.
More information: www.trustfortheamericas.org
Facebook: The Trust for the Americas Twitter: @Trust4Americas
Media Contact
Lara Bersano Calot
Director of Communications
+12024609573
lbersano@trust-oea.org
Antigua & Barbuda
-
Argentina
-
Belize
-
Brasil
-
Chile
-
Estados Unidos
-
Colombia
-
Canada
-
Costa Rica
-
Ecuador
-
El Salvador
-
Guatemala
-
Honduras
-
Jamaica
-
Mexico
-
Nicaragua
-
Panamá
-
Perú
-
Puerto Rico
-
República Dominicana
-
St. Kits & Nevis
-
St. Lucia
-
St. Vincent & Granadinas
-
Venezuela