Citi's DIA Urban Lab Jamaica and The Trust for the Americas host virtual ideathon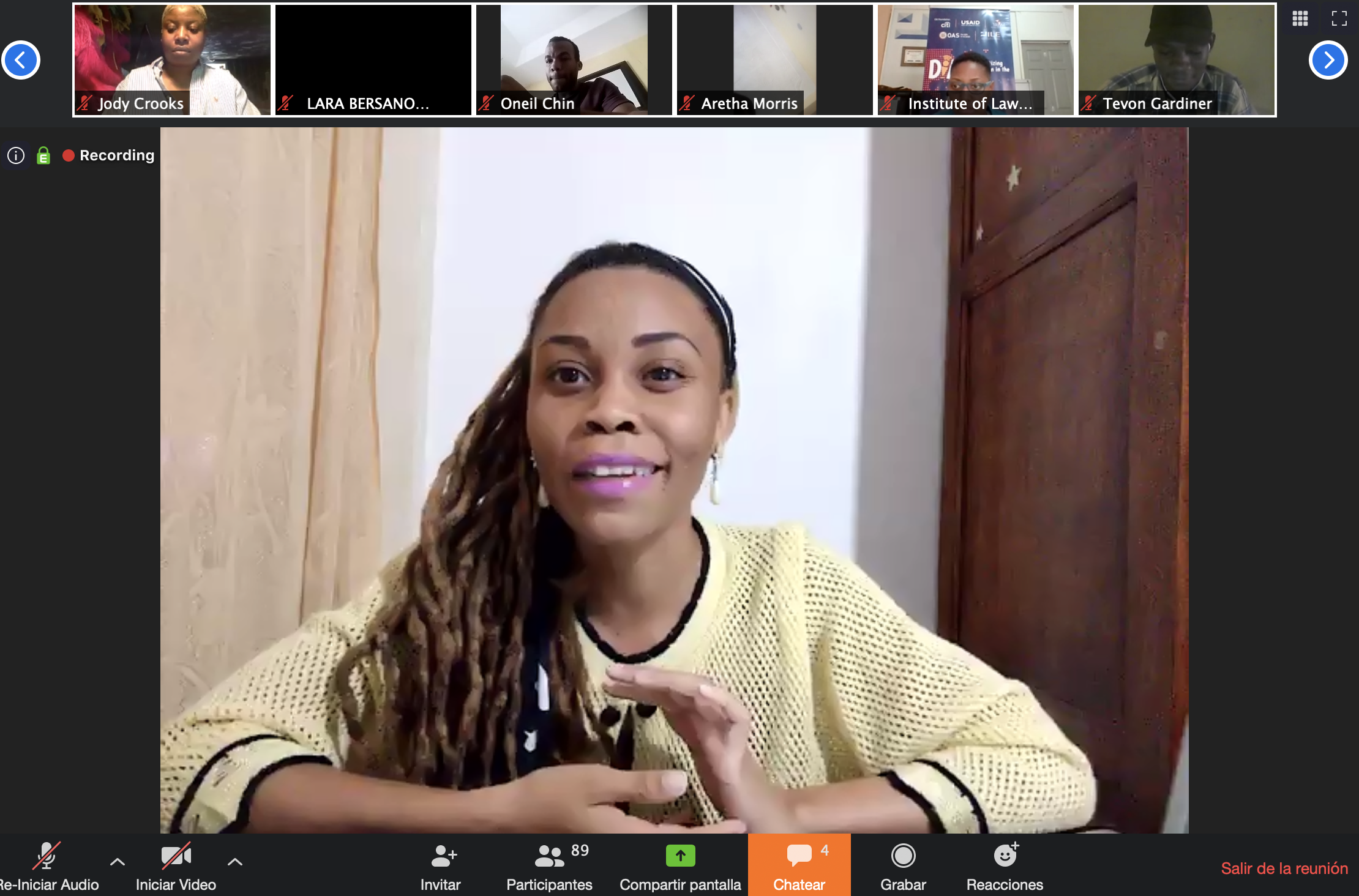 Godiva Golding giving an inspirational introduction to kick-start the virtual ideathon for youth in Jamaica
This is the first ideathon in Jamaica in which youth will present projects to offer solutions for the challenges posed by the COVID-19
April 1, 2020- The Trust for the Americas and the Institute of Law & Economy (ILE) with support of Citi Foundation is launching a two-day urban challenge ideathon through our DIA Lab in Jamaica.
In this virtual workshop, fifty young participants shortlisted from more than one hundred registries will find solutions to combat the impact of the fast-spreading COVID-19 specific to select sectors of Jamaica. This activity will serve as a platform for youth to start their long-term project in community building or disruptive entrepreneurship.
Thirty solutions will reach to the virtual pitch phase, which will happen on Monday, April 6, 2020, at 9:00 am. The solutions will focus on the following themes:
· COVID-19 & Health
· COVID-19 & Education and Access to Information
· COVID-19 & Economic Relief
· COVID-19 & Crime and Security
Davey Haughton from the Ministry of Education, Youth & Information, Michael Sappleton from the Ministry of Industry, Commerce & Agriculture, Simone Green from the Youth Innovation Centre, Spanish Town, and the renowned entrepreneur Mrs. Godiva Golding will be the judges to select the winning projects based of the innovation and entrepreneurial potential of the solutions.
Linda Eddleman, Executive Director of the Trust for the Americas commented: ¨As the world is facing significant challenges amidst the COVID-19 situation, this virtual ideathon is an excellent opportunity to empower youth to be protagonists of the solutions for the communities. We are proud to support their ideas coming from remote places of Jamaica to fuel the entrepreneurial spirit of the island.¨
Follow the ideathon and support our entrepreneurs while working and creating solutions through these hashtags and in our social media.
#DIAJamaica
#Ideathon2020
#DIAInnovation
#OvercomeCovid19
#Innovateremotely
#Covidsolutions
About The Trust for the Americas:
The Trust for the Americas is a non-profit 501(c)(3) organization affiliated with the Organization of American States (OAS). It was established in 1997 to promote public and private sector participation in social and economic development projects in Latin America and the Caribbean. Our initiatives, implemented through local partner organizations, seek to improve access to economic opportunities as well as to foster innovation in vulnerable communities in the hemisphere. To this end, The Trust also promotes social inclusion and good governance. The Trust has offices in Washington, D.C., Colombia, and Canada.
More information: www.trustfortheamericas.org Facebook: The Trust for the Americas Twitter: @Trust4America